Thursday 15 November 2018 · 7.30pm
St Paul's Church
Kindly supported by the Countess of Munster Musical Trust
Giacomo Susani · guitar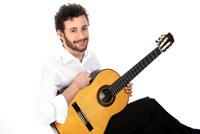 Giacomo Susani
Giacomo Susani is an Italian guitarist (Padua, 29 April 1995). He started playing the guitar at the age of 7 and eventually studied under the direction of Stefano Grondona at the Conservatorio Arrigo Pedrolloin Vicenza where he graduated with the highest marks and honours in 2013. He is currently continuing his studies at the Royal Academy of Music in London, in the class of Michael Lewin, where he has completed his Bachelor of Music, gaining First Class Honours and the discretionary Bache Fund Prize, and is now studying for his Master's degree. On his entrance to the Academy he was awarded the prestigious Julian Bream Trust Scholarship, after an audition with Julian Bream himself.
Over the years he has taken part in masterclasses and attended advanced courses with leading guitarists such as Paul Galbraith, Oscar Ghiglia, David Russell, Carles Trepat, Fabio Zanon. In particular he obtained scholarships and diplomas of merit in Oscar Ghiglia's renewed guitar courses at the Accademica Musicale Chigiana in Siena.
He has regularly taken part in guitar competitions from an early age, always obtaining excellent results and, on many occasions, winning first prize. In October 2016 he won First Prize at the London International Guitar Competition playing on this occasion the premiere of Orpheus by Graham Lynch for guitar and orchestra. Among the most recent prizes are a Special Prize for the best performance of a newly commissioned piece at Guitar Masters Competition in Poland, 2nd Prize at Gianni Bergamo Classical Music Award in Switzerland and ESTA Prize for the best performance of a contemporary piece at Forum Gitarre Wien Competition, all of them awarded between September and November 2016. In the same year he was also selected by the International Guitar Foundation under their Young Artist Platform Schemefor a series of concerts across the UK.
In April 2017 he was awarded First Prize at the Ivor Mairants Guitar Award in London after which he became a Yeoman of The Musicians' Company. Shortly after, he won the Ian Fleming Award following an audition for Help Musicians UK as well as the Star Award of the Countess of Munster Musical Trust and First Prize at the David Russell Guitar Award held at the Royal Academy of Music.
As a performer he regularly appears in important venues in Italy and other countries as soloist, soloist with orchestra and in chamber ensembles, the most important venues including London, Cambridge, Canterbury, Bristol, Barcelona, Vienna, Milan, Venice.
In February 2015 the recording studio Stradivarius brought out his first solo CD "Giacomo Susani plays Petrassi, Bach, Tansman, Weiss", which obtained excellent reviews from the public and critics alike published most notably in "BBC Music", "Gendai Guitar", "Il Fronimo", "Classical Guitar" and "Amadeus".
Besides performing, he works in the field of composition, writing and premiering in London most recently Quintet for Guitar and Strings, Songs of Elegance and Wisdom for Soprano and Guitar and Of Dark Talesfor two Guitars. Quintet and Songs of Elegance and Wisdom have been published by Armelin Musica (Padua, IT, 2017).
He is also the Artistic Director of Momùs-More Music, a Musical Association based in Italy which promotes and organises classical music concerts.
Giacomo Susani plays a guitar made by the English luthier David Rubio (1996), a guitar made by the Spanish luthier Domingo Esteso (1926) and a guitar by the German luthier Matthias Dammann (2013) kindly provided by Calleva Foundation.
Giacomo is grateful for being kindly supported by the Julian Bream Trust, the Calleva Foundation, the Worshipful Company of Musicians, Help Musicians UK and The Countess of Munster Musical Trust.