Thursday 16 November 2017 · 7.30pm
Telemann · Sonata for Two Violins in B minor, Op 2, no.5 - Andante, Allegro, Largo, Allegro
Wieniawski · Etude-Caprice no.1 in G minor
Mozart · Sonata for Two Violins in G major, KV379
Bartok · 44 Duos, a selection
JS Bach · Inventions, a selection (arranged by Retorica)
Prokofiev · Sonata for Two Violins, op. 56 - Andante Cantabile, Allegro, Commodo (quasi Allegretto), Allegro con brio
Handel/Halvorsen - Passacaglia
Retorica
Harriet Mackenzie & Phillippa Mo · violins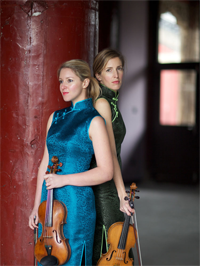 Retorica
Philippa and Harriet met at the Royal Academy of Music, London and discovered their passion for contemporary music as well as the wealth of rarely heard repertoire for two violins.
Since they started playing together in 2010, Retorica have performed all over the world. Highlights of their performing career include recitals at some of the most prestigious halls in China, including the Beijing NCPA and Shanghai SHAOC. Other highlights include a performance in Odessa, Ukraine as part of the 2D2N Festival, where Retorica showcased seven new commissions by leading British composers; in the Barbican Centre as part of the Park Lane Young Artists Series in the Mostly Mozart Festival, at the Jersey Liberation Festival, the Bury St Edmunds Festival and the Ripon International Festival. Retorica were also 'Artists in Residence' at the Presteigne Festival 2012 where they gave performance of Paul Patterson's Double Violin Concert Allusion and a new commission by Cecilia McDowal, Rousseau's Execution. They were joined by acclaimed viola player Sarah-Jane Bradley and through the Autumn performed on the Prestiegne Festival City tour which included concerts in Birmingham, Bristol, Cardiff and Oxford.
English Violin Duos, Retorica's debut CD of British works for two violins, has been highly acclaimed. The NMC label release was launched in London at LSO St Luke's in September 2012, in the presence of composers David Matthews, John McCabe and Jim Aitchison. Amongst other critical acclaim, this CD was chosen as the 'must hear' for chamber music and 'editor's choice' in the April 2013 edition of Gramophone Magazine. The CD was made possible by the generous support of the RVW Trust, the Rawsthorne Trust and the John Ireland Trust.
Also in 2012, Retorica recorded John McCabe's double concerto Les martinets Noirs with Orchestra Nova, conducted by George Vass, released on the Dutton Epoch label.
The uniqueness of Retorica lies in the quality of the two players as they perform in such a rare and expressive formation of a violin duo, as well as the largely unexplored wealth and quality of repertoire for two violins and orchestra. They are also proud to be expanding the repertoire and aware they are creating a legacy with recent commissions for John McCabe, David Matthew, Dmitri Smirnov, Jim Aitchison, Robert Fokkens and Sadie Harrison.
Future highlights include two new double violin concerti written for the duo by James Francis-Brown to be premiered at the Presteigne Festival 2015 and a new piece written for Retorica by composer Gabriel Prokofiev to be premiered at the Lancaster Institute of Contemporary Arts alongside the Sergei Prokofiev's Sonata for Two Violins in March 2014. In 2014 Retorica will record Paul Patterson's Double violin concerto Allusions, and a new album with new composition written and dedicated to them by well-established contemporary Japanese composers. Between 2014 and 2015, the duo will be touring in Germany, Scotland and Japan.